It's hard to imagine a more upbeat, enjoyable charity fundraiser than the annual Crazy Hats sponsored walk at Wicksteed Park, Kettering.
This year's event took place in lovely sunshine on Sunday 2 April and jhai's Northampton team was delighted to attend for a second year running.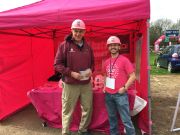 Here's a short video showing some of the action from this feelgood fundraising event where participicants are encouraged to wear outlandish headwear and have a great time while raising money for the Northampton-based breast cancer care charity.
The jhai team was there to participate in the walk (with Nelly the dog) for the second year running and to sell our pink hard hats - all profit from the sale of the hats goes towards funding the charity's much needed new premises.